Adobe Photoshop CC 2021 v22.3.0.49 Multilingual (x64) (Pre-Activated/Patched) (+ Portable) - MARCH, 2021 | Windows
THE APPLICATION IS WORKING OFFLINE & ONLINE PERFECTLY! - NO NEED ADOBE ID ACCOUNT
Adobe Photoshop CC 2021 v22.3.0.49 Multilingual (x64) (Pre-Activated/Patched) (+ Portable) - MARCH, 2021 | 2.55 GB/2.26 GB | Windows
LANGUAGES: English (en-US) / Hungarian / Dutch / Danish / Spanish / Italian / Chinese (simplified) / Chinese (traditional) / Korean / German / Norwegian / Polish / Portuguese (Brazil) / Russian / Turkish / Ukrainian / Finnish / French / Czech / Swedish / Japanese / English (UK) / English with Arabic support / English with Hebrew support / Spanish (Mexico) / French (Morocco) / French (Canada)
Anything you imagine can be created in Adobe Photoshop - one of the best applications for working with images and graphic design. Create and arrange illustrations and photographs. Develop websites and mobile apps. Edit videos, simulate real-life paintings and more. You get everything you need to get creative wherever inspiration strikes.
[ System Requirements ]
• 64-bit version of Microsoft Windows 10 (version 1809 or later); 64-bit version of Microsoft Windows 10
• Microsoft Internet Explorer 11
• Intel or AMD processor with a clock speed of at least 2 GHz, with support for 64-bit operating systems
• 8 GB of RAM (16 GB recommended)
• 4 GB of free hard disk space; additional free space required during installation
• Graphics card ( see GPU and Photoshop FAQ )
• 1280x800 screen resolution (1920x1080 recommended) with 100% user interface scaling
• Internet connection and registration required to access online services
Professional tools in Adobe Photoshop make daily editing or complete image conversion easy. Crop, remove objects, retouch and combine photos. Play with color and effects. Work with unlimited layers and masks. Illustrations, posters, packaging, banners, websites - all your design projects start with Adobe Photoshop . Combine photos and text to create completely new images. And reimagine the art of photography!
Advantages of Adobe Photoshop 2021
- Neural Filters
Learn about new possibilities for the realization of creative ideas with updated filters based on technology Adobe Sensei. Colorize old black and white photographs, change facial expressions, or radically change portraits.
- Replacement "Sky"
Quickly select and replace the sky in the photo and automatically adjust the colors of the landscape to match the new sky. Get the mood you want for your photos, even if the shooting conditions weren't ideal.
- Learn more directly in the application
With the New Features panel built into the application, you can search and learn new Photoshop tools, how-to guides, articles and quick steps that will help you increase your knowledge and reach new heights with Photoshop.
- Improved cloud documents
Access previously saved versions of cloud documents directly in Photoshop. It is now even easier to preview, mark and restore previous versions of documents.
- Pattern preview
Get an idea of ​​how the design will be embodied as a pattern. You can now quickly visualize and easily create repeating patterns in real time using the Pattern Preview feature.
What has been changed by the author of the assembly:
- The assembly was created on the basis of the Adobe standalone installer version 5.3.1.470, which is not available to the general public.
- With the exception of the required minimum, the Adobe Desktop Common module was cut from the installer, which is installed by the original installer without fail.
- The Adobe Creative Cloud module is completely cut from the installer, which is installed by the original installer without fail.
- The installer provides a choice of the installation path and the language of the program interface, as well as the ability to launch the program immediately after the installation is complete.
- During installation, a "carousel" is launched in the installer window, demonstrating the capabilities of neurofilters.
- In the menu for selecting the interface language of the installed program, a false indication of support for additional six languages ​​has been corrected.
- Unlocked the ability to install the program on Windows 10 minor versions.
- Updated the main module of Adobe Photoshop to version 22.3.0.49.
- Updated the Adobe Camera Raw plug-in to version 13.2.0.73.
- Updated auxiliary module Adobe CCX Process to version 4.2.8.1.
- Updated auxiliary module Adobe CoreSync updated to version 4.7.0.1.
- Added helper module Adobe CC Library version 3.12.10.1.
- Disabled spy module Log Transport Application.
- The program has already been treated. The start window (initial screen) is working. After authorization, you can use cloud storage, libraries and other online services.[/b]
Overall Adobe Photoshop CC 2021 features:
• Revolutionary new features, a fluid user experience, and improved access to the unrivaled power of Photoshop
• A more intuitive user interface and new nondestructive editing features that put you in control, including the new Adjustments and Masks panels
• Content-Aware Scaling – advanced auto-blending that extends depth of field, and industry-leading editing and compositing with reengineered color-correction tools
• Significant productivity enhancements that provide increased flexibility and enable you to leverage the power of today's faster graphics processors
• Breakthrough 3D editing and compositing capabilities and improved video controls to dramatically expand your creative options
• Comprehensive image analysis with enhanced measurement and counting tools, as well as support for DICOM images and MATLAB processing routines
Enhanced Features:
• Artboards
• Creative Cloud Libraries
• Adobe Stock
• Design Space (Preview)
• Export artboards, layers, and more
• Layer Styles
• Device Preview and the Preview CC companion app
• Blur Gallery | Restore noise in blurred areas
• Glyphs panel
• Camera Raw
• 3D printing
• 3D imaging
• UI toolkit for plug-ins and scripts
Adobe Photoshop CC 2021 is part of Creative Cloud. That means you have access to all the latest updates and future releases the moment they're available. Use Save to Cloud to keep your files organized across multiple computers. And with Behance integration, you can share your projects straight from Photoshop CC and get immediate feedback from creatives around the world.

HOMEPAGE
SCREENSHOTS: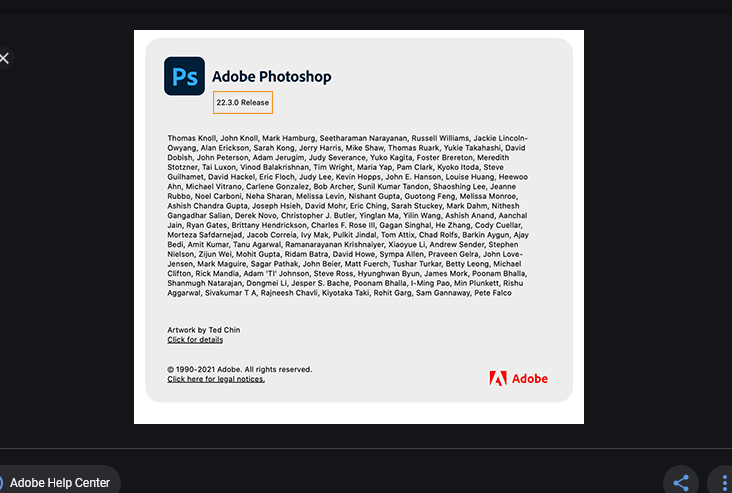 Adobe Photoshop CC 2021 v22.3.0.49 Multilingual (x64) (Pre-Activated/Patched) - MARCH, 2021 | 2.55 GB | Windows
LANGUAGES: English (en-US), Dansk, Deutsch, Español, Français, Hebrew, Hungarian, Italiano, Nederlands, Norwegian, Polish, Português (Brasil), Suomi, Svenska, Turkish, Ukrainian, čeština, Русский , 日本語, 简体中文, 繁體中文, 한국어
DOWNLOAD: 2.55 GB | !NO PASSWORD! | NO CRC | SINGLE EXTRACTION | NO CRC - CHECKED - TESTED
x64 (64-bit):
Code: Select all
https://rapidgator.net/file/69da7b955cfba28f0e803592e9bfbbc5/Adobe_PS_CC_2021_22_3_0_49_x64_Multi_March_2021.part1.rar.html
https://rapidgator.net/file/b1142f7f1d6facb7ffd89087498b2b6a/Adobe_PS_CC_2021_22_3_0_49_x64_Multi_March_2021.part2.rar.html
https://rapidgator.net/file/ab8f132404cd370b5b0577b72aa973cf/Adobe_PS_CC_2021_22_3_0_49_x64_Multi_March_2021.part3.rar.html
---------
Portable Adobe Photoshop CC 2021 v22.3.0.49 Multilingual (x64) (Pre-Activated/Patched) - MARCH, 2021 | 2.26 GB | Windows
LANGUAGES: English (en-US) / Dansk / Deutsch / Español / Français / Hebrew / Hungarian / Italiano / Nederlands / Norwegian / Polish / Português (Brasil) / Suomi / Svenska / Turkish / Ukrainian / čeština / Русский / 日本語 / 简体中文 / 繁體中文 / 한국어
DOWNLOAD: 2.26 GB | !NO PASSWORD! | NO CRC | SINGLE EXTRACTION | NO CRC - CHECKED - TESTED
x64 (64-bit):
Code: Select all
https://rapidgator.net/file/e50d951abe3813c36da9e4003bc1451f/Portable_Adobe_PS_2021_22_3_0_49_x64_Multi_March_2021.part1.rar.html
https://rapidgator.net/file/b1d36a2b98983cb1fa4ac2650b558b4c/Portable_Adobe_PS_2021_22_3_0_49_x64_Multi_March_2021.part2.rar.html
https://rapidgator.net/file/831cfee7cde37643ea3a48388e5d4b97/Portable_Adobe_PS_2021_22_3_0_49_x64_Multi_March_2021.part3.rar.html